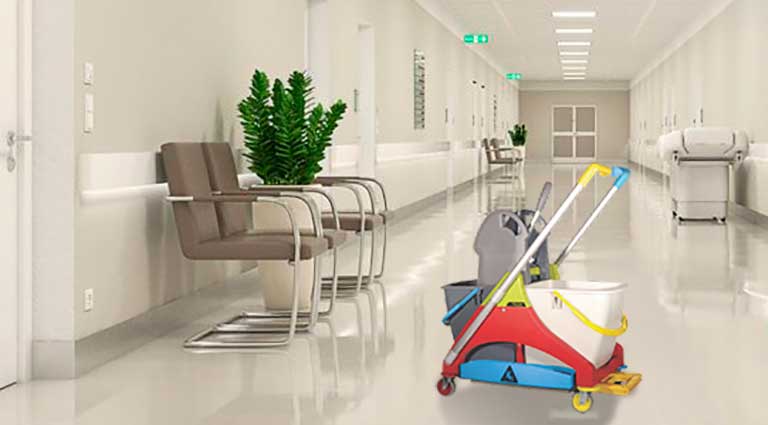 Qo-Kart is the cleaning trolley designed and developed entirely within Taxon. Born from listening to end users, that is precisely from those who, day by day, face so many small needs and operational needs, from those who know exactly what in a work tool like this is important and what is superfluous. This is why QO-Kart has technical-functional features aimed at versatility and ease of use.
Qo-Kart is the innovative concept cleaning trolley, equipped with a complete set of integrated accessories, designed to make daily use quick and easy.
All the unique advantages of Qo-Kart
The advantages of Taxon's professional cleaning trolley are just so many.
Italian eco-design and robustness
Our cleaning trolley combines the design and quality of an Italian product. It is ecological, because it is made with 50% recycled plastic of first choice, combined with 50% virgin plastic, to give it all the resistance that professional cleaning trolleys need, and withstand even the most heavy-duty uses.
Maneuverability
To give our line of cleaning trolleys an extraordinary maneuverability, even at full load, we have equipped it with four swivel wheels in soft synthetic rubber that does not leave marks on the floor and is silent during transport. For control and driving the trolley is equipped with polypropylene handles with an ergonomic shape and position, mounted on anodized aluminum elliptical-shaped tubular sections
Safety
The security of a job done at its best is in the Taxon philosophy. Professional cleaning carts, like any cleaning equipment we produce, are designed to give the best possible operating results.
To do this, we have made the Qo-Kart cleaning trolley one-way, thanks to the fixed tubular elements which, together with the obligatory housing for clean water and rinsing buckets, and the unidirectional position of the wringer, do not allow confusion and mixing the dirty rinsing water with the clean one and already mixed with detergents. An advantage and peace of mind for operators and cleaning companies who want to work at their best and give maximum results to their customers.
Something extra
Always to make the work of the operators easier and easier, we have equipped each trolley for cleaning the Qo-Kart line with two additional accessories:
The housings where 2 practical side trays can be inserted, positioned between the wheel uprights and on which the wet floor symbol is also shown. These trays are useful for holding rags and other small items that are part of the cleaning equipment.
The housing for the wet floor sign, inserted for the length between the base of the wheels, makes the signal transport practical, without cluttering handles or other parts of the multi-purpose trolley for cleaning.
The configurations
Taxon's Qo-Kart industrial cleaning trolley is presented in 5 different configurations characterized by a fixed aluminum handle:
And five other configurations equipped with the classic reversible painted iron handle:
You can click on each configuration to discover its technical features and advantages.
The Qo-Kart multi-purpose cleaning trolleys are supplied in the standard colors Red and Yellow, Blue, Green and Harlequin. To be made even more unique, they can be personalized with the affixing of the customer's brand based on the structure.
Now that you know all the advantages of choosing a Qo-Kart cleaning cart for you or your customers, you have no excuse for not starting to include them in your products. Call or write us for all the details of our offer.
The client's testimony
Giulio Bertozzi
Detersificio Bertozzi S.A.S.


"We chose the Qo-Kart trolley because we liked very much the idea of ​​having a cheerful and colorful work tool. It also seemed a way to stand out from other companies. Using it, we found it very manageable, stable, with the buckets fixed on the base. Even the wringer put in such a way that it cannot be inverted is a nice idea to avoid confusion. It is beautiful, practical, robust and comfortable. A great work tool to try out for sure."